THE MINISTRY OF ECONOMY, TRADE AND INDUSTRY HAS DECIDED ON THE DEVELOPMENT CONTRACTOR OF THE POST-5G INFORMATION AND COMMUNICATION SYSTEM.

https://www.nikkei.com/article/DGXZQOUA167GI0W1A610C2000000/
🟩SELECTED AS A CONTRACTOR FOR SEMICONDUCTOR DEVELOPMENT FOR MEC
 KIOXIA AND SOCIONEXT WERE SELECTED TO DEVELOP SEMICONDUCTOR-RELATED TECHNOLOGIES NECESSARY FOR MEC IN POST-5G INFORMATION AND COMMUNICATION SYSTEMS.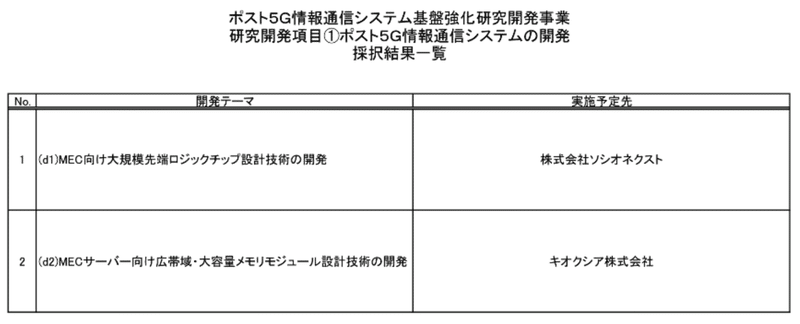 🟩WHAT IS MOBILE EDGE COMPUTING (MEC)?
 TECHNOLOGY TO REALIZE HIGH-SPEED, LARGE-CAPACITY, LOW-LATENCY NETWORKS BY PROCESSING WITH A PARTIAL MEC OF DATA CENTER PROCESSING LOCATED BETWEEN THE DATA CENTER AND THE TERMINAL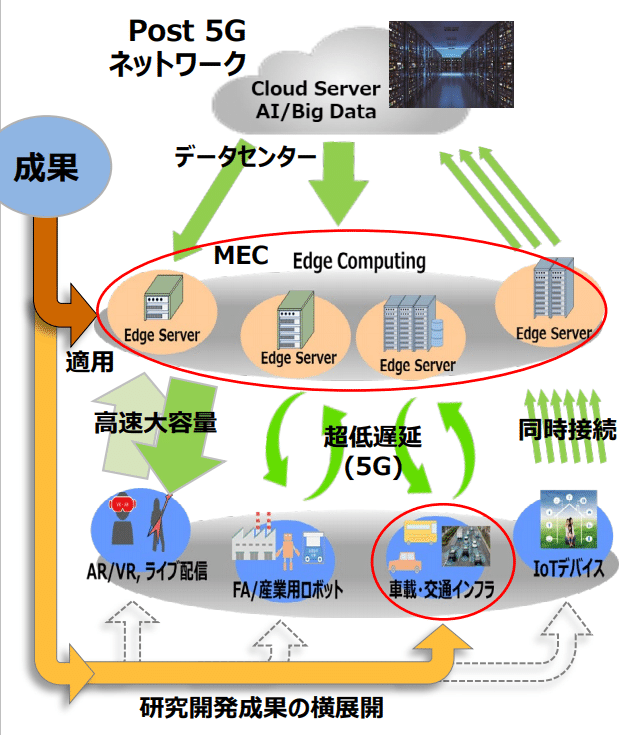 IT IS ALSO AN IMPORTANT POSITION IN 5G
WHEN THE TERMINAL RECEIVES INFORMATION PROCESSED IN THE CLOUD OVER AN INTERNET LINE, A SLIGHT DELAY OCCURS AT PRESENT. MEC IS A KEY TECHNOLOGY TO REDUCE THIS DELAY, AND MEC IMPORTANCE WILL INCREASE FURTHER IN POST-5G, WHERE HIGH-SPEED AND LOW LATENCY IS EXPECTED.
🟩 what kind of semiconductors will be developed?
 IN ORDER TO REALIZE LOW-LATENCY PROCESSING USING MEC, WE WILL DEVELOP DESIGN TECHNOLOGY FOR LARGE-SCALE ADVANCED LOGIC SEMICONDUCTORS WITH STATE-OF-THE-ART PROCESS NODES, AS WELL AS DEVELOP LARGE-CAPACITY, WIDE-BANDWIDTH MEMORY SYSTEMS.
Development of Large-Scale Advanced Logic Chip Design Technology for MEC: Socionext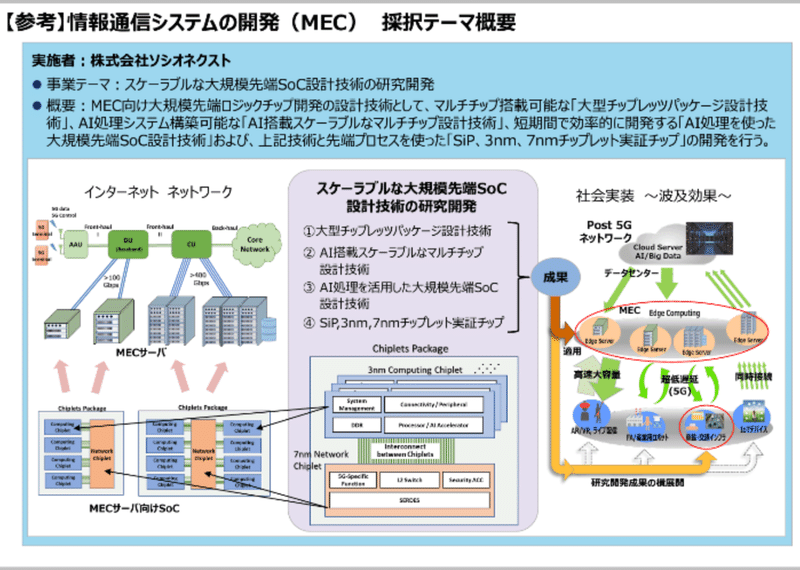 What kind of use case ai processing is important for Post5G?
DEVELOPMENT OF WIDEBAND AND LARGE-CAPACITY MEMORY MODULE DESIGN TECHNOLOGY FOR MEC SERVERS: KIOXIA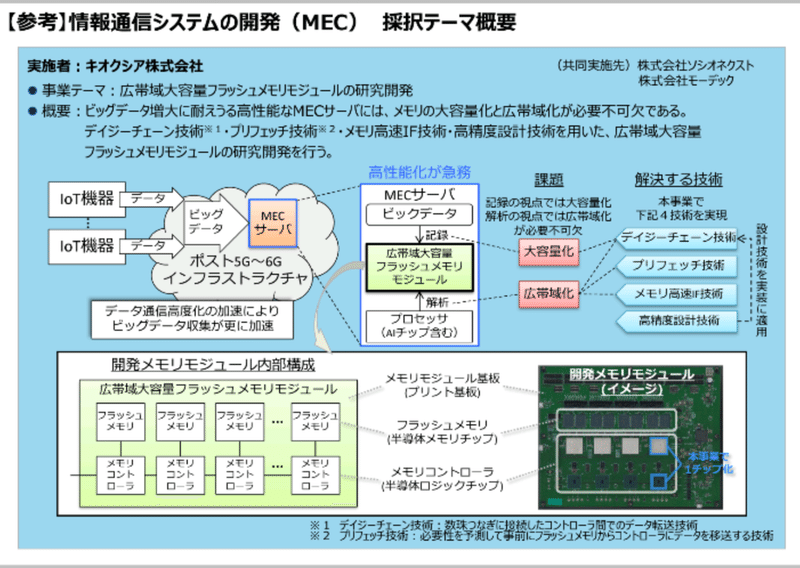 Since broadband large capacity is a general-purpose index, I want you to develop with an awareness of mec-specific requirements for Post5G.
the consignment amount is 5 billion yen over three years.
using state-of-the-art process nodes costs billions of tape-outs, so are you serious about the amount of money on the consignment side? i would like contract manufacturers to seriously consider commercialization, not the end of making prototypes once a year.
🟩How Post5G will change the world
 The keywords of smart factories and autonomous driving can be seen from the ministry's data, but the intention of how the world wants to change with Post5G is difficult to read.
in the future, it is expected to be used in various industrial applications such as smart factories and autonomous driving, and it is expected to be a technology that can be the core of japan's competitiveness.
the company will secure technologies that can manufacture cutting-edge semiconductors in japan in the future. i can't help it because i'm focusing on such a means theory first.
🟩 summary
KIOXIA AND SOCIONEXT WERE SELECTED AS CONTRACTORS FOR SEMICONDUCTOR DEVELOPMENT FOR MEC.
 One of the initiatives to build a system for manufacturing advanced semiconductors in Japan, which is becoming increasingly important, is to discuss the essence of what Japan wants to do with Post5G.