🟩 silicon cycle is 3.5 to 4 years
the semiconductor industry has a cycle of about 3.5 to 4 years and has a regular booming recession. this is called "silicon cycle" as a rule of thumb. it is caused by the supply shortage of semiconductor chips and the cycle of surplus inventory.
silicon cycle is a problem for semiconductor companies. therefore, by adjusting the inventory cycle and the timing of capital investment, we will make efforts to reduce the impact.
🟩 causes of silicon cycles
semiconductor companies move to secure large quantities of materials such as wafers in order to meet demand during booms. in order to reduce procurement risk, in some cases, placing orders that preeated demand. as a result, it becomes overproduction. when supply exceeds demand, prices fall. when prices fall, demand rises again, which is a cycle.
🟩 what is the current 2021?
2018 WAS THE BOOMING SILICON CYCLE, THE ECONOMY IS REFLECTED IN THE PRICE OF DRAM, WHICH MAKES LARGE AMOUNTS OF SEMICONDUCTORS. DRAM PRICES HAVE RISEN SINCE 2018, OUT OF BOTTOM IN THE FIRST QUARTER OF 2021. THEREFORE, PRICE IMPROVEMENT IS EXPECTED TO BEGIN IN THE SECOND QUARTER. "IN THE PAST CYCLE, THE EXPANSION WILL CONTINUE UNTIL THE FIRST HALF OF 2022," HE SAID. IN OTHER WORDS, THE CURRENT 2021 IS IN THE RECOVERY PHASE.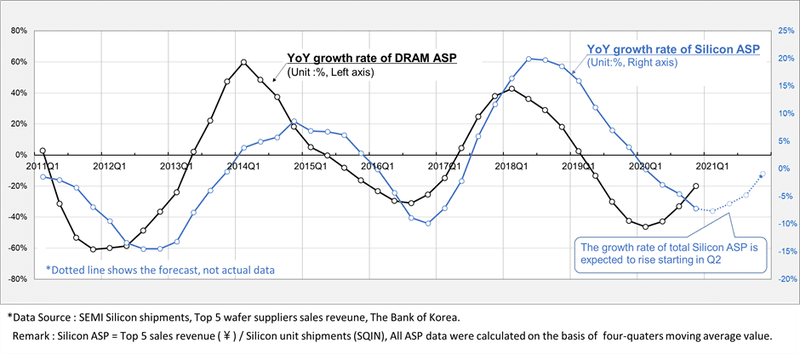 🟩 the semiconductor as a whole is growing.
the semiconductor market as a whole is expected to reach us$500 billion in 2021. it reached us$400 billion four years ago in 2017, and us$300 billion four years ago in 2013. the booming recession in the silicon cycle repeats, but the market is growing at us$100 billion every four years.
🟩 summary
silicon cycle is in the recovery phase in 2021 with a cycle
of 3.5 to 4 years
the semiconductor industry has been in a good recession every four years due to the silicon cycle, but in the long term it is an industry to grow. semiconductor investment is a good idea from a long-term perspective.