WSTS (WORLD SEMICONDUCTOR STATISTICS) ANNOUNCES SPRING 2021 SEMICONDUCTOR MARKET FORECAST
Established in 1986, the WSTS is a global statistical organization
for the semiconductor market, with 44 semiconductor manufacturers from around the world voluntarily membering.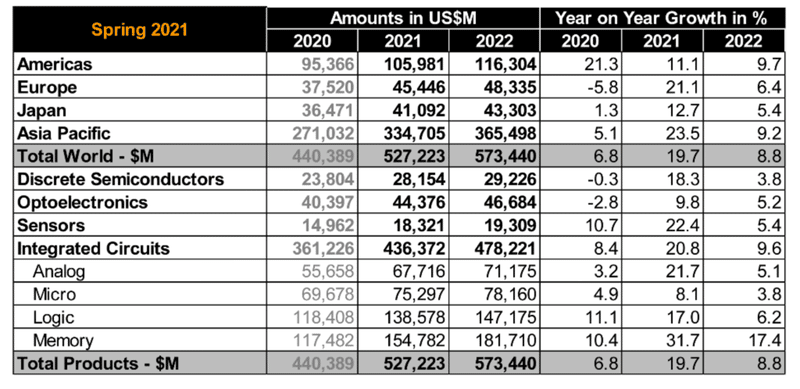 🟩semiconductor market size in 2021
global semiconductor market expected to grow 20% to us$527.2 billion compared to 2020
The spread of the high-speed communication standard "5G" and the demand for nesting places will break through the US$500 billion mark for the
first time in history.
revised upward by us$57.8 billion to factor in the economic recovery from the second half of 2020
🟩how was it a year ago?
The global semiconductor market size in 2020 was 440.4 billion US dollars, the second largest market size in history, the global economy in 2020 was sluggish due to the impact of the COVID-19 pandemic, but
the semiconductor market was offset by the impact of the

economic slowdown due to nesting demand and other factors.
🟩expected to continue growth in 2022
forecasts 9% growth in 2022 to reach a new all-time high of us$573.4 billion.
the shortage of semiconductor supply is expected to continue until 2022, and there is no factor in the rapid weakening of the current very strong demand for semiconductors, and a reactionary decline will not be noticed in 2022.
on the other hand, there are also voices that demand for semiconductors will slow down as demand for housing has come to a halt.
🟩 driving semiconductor demand
the increase in the amount of data communication around the world due to the demand for nesting is driving the way for communication devices such as
data centers and smartphones.
Memory ICs are expected to continue to grow by +32% by product, with
memory expected to continue in 2022 with memory growth of +17%.
🟩 situation in japan
although all regions such as
asia pacific (including china), europe, japan, and the americas are experiencing positive growth, the japanese market size in yen terms, which has a lower

growth rate than others, is about 4.35 trillion yen in 2021 and about 4.59 trillion yen in 2022, but i would like to expect a growth rate on a par with the rest of the world.
🟩 conclusion
BASED ON THE ACTUAL FIGURES UP TO MARCH 2021, WSTS MEMBER COMPANIES HAVE PREPARED USING ONLINE FORECASTING TOOLS BASED ON GLOBAL ECONOMIC AND MARKET TRENDS.
no one knows whether it will grow in the short term as predicted, but considering life after corona, semiconductors have become infrastructure,
so
the semiconductor market should grow in the long term.