Japan semiconductor equipment exceeds 3 trillion yen for the first time in fiscal 2021
🟩 Japan Semiconductor manufacturing equipment +37% growth
The Japan Semiconductor Equipment Association (SEAJ) announced a forecast that the sales value of Japan semiconductor manufacturing equipment in FY2021 will be +37% year-on-year to 3,263.1 billion yen. It has been revised upward by 14.4 points from the forecast of +22.5% in July, and is expected to exceed 3 trillion yen for the first time.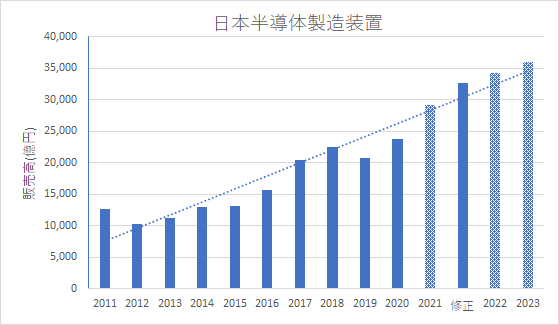 🟩 The environment surrounding manufacturing equipment is favorable
With the spread of the Internet and the advancement of data utilization, demand for computing semiconductors for data centers and smartphones and semiconductor memory for storing data has remained at a high level. As a result, semiconductor manufacturers around the world are increasing capital investments, and sales of semiconductor manufacturing equipment are growing.
Not only Japan, but semiconductor manufacturing equipment around the world is also doing extremely well, mainly in logic, foundry, and memory. In 2021, it is expected to be 91.4 billion dollars (about 10 trillion yen), +44% year-on-year, and an increase of 8% in 2022.
2021/2022

Japan +37% /+5%
World +44% /+8%
🟩Summary
Japan semiconductor equipment is expected to grow +37% as semiconductor manufacturers build up capital expenditures
Tokyo Electron of the Japan semiconductor equipment company "Kota/Developer", SCREEN of "cleaning equipment", and Advantest of "semiconductor test equipment" have a high global market share. I want you to do your best so that you are not left behind by the growth of global semiconductors.