Intel's revenue declines due to board supply shortage
🟩 Shortage of "Ajinomoto build-up film substrate"
Ajinomoto A build-up film substrate (ABF substrate) is a board that connects the components of a processor. It is widely used in high-performance processors such as CPUs, GPUs, and ASICs. The shortage of supply of this ABF substrate is likely to affect Intel's earnings.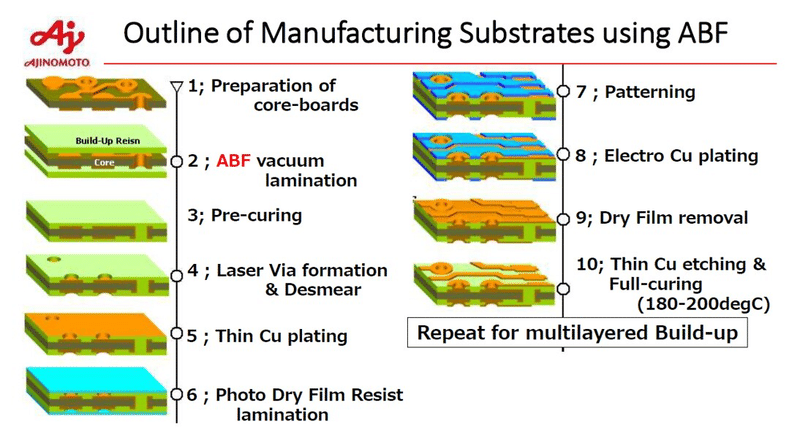 🟩 Ajinomoto is not the cause of the shortage
Ajinomoto Build-up Film (ABF) is used in the insulating layer of ABF substrates. This ABF is manufactured by only one company in the world, Ajinomoto Fine Techno. However, Ajinomoto Fine Techno is not the cause of the shortage of ABF substrates.
Articles such as "Ajinomoto Build-up Film ® (ABF) is in short supply" have been published, but these articles are not based on our announcement.
There are dozens of companies in the world that make ABF substrates. The board manufacturer's increase in production is not in time for supply. The current lead time for ABF substrates is 4-5 months. Prices continue to rise by as much as 40%, wreaking havoc on CPUs, GPUs, and some IC manufacturers.
🟩 Status of PCB manufacturers
Leading ABF manufacturers such as Unimicron Technology, Nan Ya PCB, and Kinsus Interconnect Technology in Taiwan are planning to increase production of ABF substrates. The two major ABF substrate manufacturers in Japan, Ibiden and Shinko, have stepped up production earlier than their Taiwanese peers and will gradually increase production during 2.
The yield of ABF substrate production is low, and it is said that it is about 70% for high-end products. It was a product that was not profitable from the point of view of ABF board manufacturers, but the price has risen and we have decided to invest.
🟩Summary
Ajinomoto build-up film substrates are widely applied to high-performance processors, and board manufacturers are slow to increase production, which is affecting Intel's bottom line.
High-performance substrates and assembly technology are Japan's specialties, so it would be good if we could take this opportunity to increase the production of substrates in Japan. 【Ibiden】[4062] and [Shinko Electric Industry][6967] are representative high-performance board manufacturers with Intel as their main customer.