German Siltronic fails to sell to Taiwan Global Wafers
🟦 Global Wafers' Siltronic Acquisition Fails
Taiwan's Global Wafers announced that it has abandoned its acquisition of Germany's Siltronic. A major acquisition that was expected to cost $5 billion (about 580 billion yen) ended in failure. Global Wafers will pay Siltonic a fee of €50 million for termination.
Global Wafers announced that it will acquire Siltronic through TOB in December 2020. However, the purchase of shares from existing shareholders did not proceed, and after four changes in conditions, including raising the purchase price, the TOB was finally concluded in March 2021.
Silicon wafer
Semiconductors are extremely important components in all kinds of electronics-related products, including computers, communication equipment, and consumer electronics. Silicon wafers are the basic material of semiconductors and are used in all semiconductor chips, regardless of logic for calculation or memory used for storage. The shape is a thin disk-shaped material made with advanced technology and manufactured in various diameters (1 ~ 12 inches). Because silicon wafers are manufactured in a variety of diameters, the total shipment volume is expressed in square inches.
🟦 Failed to obtain approval from the German authorities
Approval of the acquisition of Sirtonic has progressed around the world, and Japan approved the acquisition in November 2021. However, by the deadline of January 31, 2022, the German government ultimately failed to approve the deal, and the acquisition failed. Xu, CEO of Global Wafers, said
, "Given our efforts to obtain mutually acceptable solutions and our long track record of success in Europe, we are very disappointed that this outcome has occurred."
As countries around the world become increasingly aware of the importance of semiconductors, governments are becoming increasingly vigilant about the risk of losing their critical technologies. The German government also seems to have wanted to avoid giving up its own leading silicon wafer company.
No. 2 in the world when the acquisition is completed
Wafers are used in all semiconductor chips, but there are very few leading companies in the world. Japan Shin-Etsu Chemical Industry Co., Ltd. [4063] and SUMCO Co., Ltd. [3436] together account for the majority share. It is followed by No. 3 Global Wafers and No. 4 German Siltronic. Once the acquisition was finalized, Global Wafers was slated to overtake SUMCO to become the second largest in the industry.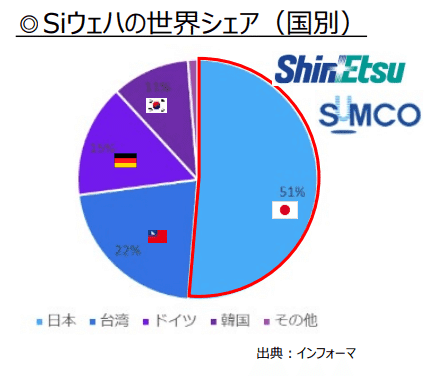 🟦Summary
It did not receive approval from the German government, and the world's second largest wafer company was not born.
Since semiconductor manufacturing bases using silicon wafers are concentrated in East Asia, I feel that it is inevitable that wafer manufacturing companies will concentrate in East Asia.