NAND prices expected to fall 0-5% in Q4
🟩NAND Memory Price Forecast to Fall
According to TrendForce, the price of NAND memory products is expected to start falling in the fourth quarter of 2021 and record negative growth from the previous quarter. This is because demand for home appliances such as smartphones, Chromebooks, and TVs, as well as storage products such as memory cards and USB drives, has been sluggish and inventory levels have been steadily rising.
🟩 Negative growth of 0~5% compared to the previous fiscal year
The price of NAND flash memory is projected to be minus 0~5% quarter-on-quarter.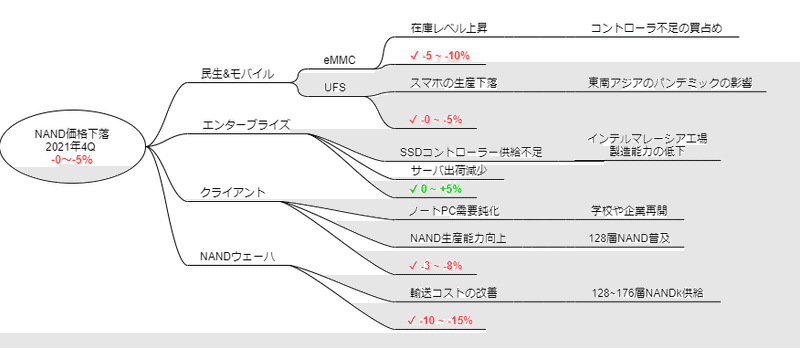 Consumer & Mobile
With the end of the peak season for consumer products such as TVs and tablets, and the gradual withdrawal of U.S. subsidy policies, demand is beginning to decline. Due to hoarding fears of a shortage of controller ICs, eMMC prices are projected to be 5-10% negative due to rising inventory levels. Due to the decline in demand in Southeast Asia and the peaks of new smartphone products such as iPhones, a 0-5% decline in UFS prices is expected.
enterprise
Data center customers are increasing their order volumes, and inventory is also steadily increasing. However, the supply of controller ICs for enterprise SSD chips has not caught up. As Intel's main base is in Malaysia, production has been reduced due to the pandemic. Therefore, enterprise SSDs are expected to grow only 0 to 5%.
client
With schools and businesses also reopening, the demand for Chromebooks for distance learning is starting to decline rapidly. Memory manufacturers are also rapidly increasing their production capacity for NAND products with more than 128 layers. As a result, it is predicted that the price of client SSDs will gradually exceed supply demand and fall by 3-8%.
NAND Wafers
With the spread of NAND products with more than 128 layers, transportation costs are further improved and prices are heading for reduction. NAND wafers are expected to drop in price by 10-15%.
https://note.com/embed/notes/n7813facd922c
🟩Summary
Slowing demand for PCs and smartphones and increased production capacity of NAND memory will cause NANDpricesto fall 0-5% in Q4 2021
Memory giant Micron Technology Co., Ltd.'s sales forecast for the September-November quarter of 2021 has fallen by about 10% below market expectations. He explained that demand for NAND is temporarily constrained due to semiconductor shortages in NAND controllers and power supply ICs (PMICs). However, it cannot be denied that demand for PCs has come to an end.