NAND market revised downward in Q3 2022 to 8-13% decline due to oversupply
🟦NAND Flash Price Revised Downward
According to Trendforce, the NAND flash market in Q3 2022 will see prices fall due to oversupply. The decline will widen to 8-13% and may continue into the fourth quarter.
NAND flash oversupply has intensified due to advances in the process. The entry of YMTC, a Chinese domestic NAND company, into the market has also spurred an oversupply. For home appliances, the price decline is likely to continue until the peak season in the second half of the year, which is important.
🟦NAND demand is declining
Consumer demand for PCs, smartphones, TVs, Chromebooks, tablets, smartphones, etc. is declining. Even in China's largest EC sale "618 sales season", smartphone demand did not recover. Demand for the next-generation server platform SapphireRapids of the Intel 7 process was also expected, but demand from data centers was also weak.
NAND Flush Price

Client SSD 8-13% reduction
Enterprise SSD5-10% reduction
eMMC 8-13% reduction
UFS 8-13% reduction
NAND wafer reduced by 15%-20%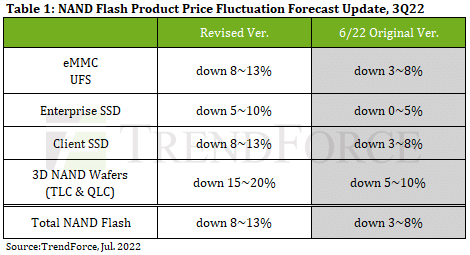 🟦Summary
Expected server demand is also weak, and NAND prices are revised downward to 8-13%
The memory market is a leading indicator of the semiconductor market. Both DRAM and NAND are showing signs of recession in the second half of 2022.