GF (GLOBALFOUNDRIES), the world's third-largest semiconductor manufacturing consignee, announced that it will build a new 300mm wafer plant at its plant in Singapore.
🟩 responding to the semiconductor shortage
GF OWNS FACTORIES IN SINGAPORE, DRESDEN AND THE UNITED STATES. CURRENTLY, ALL REGIONAL CAPACITY IS FILLED, AND THE COMPANY PLANS TO INCREASE PRODUCTION VOLUME BY CONSTRUCTING A NEW PLANT.
the purpose of the new plant is to respond to the increase in demand due to the global shortage of semiconductors. the new plant in singapore is expected to start mass production operations in 2023.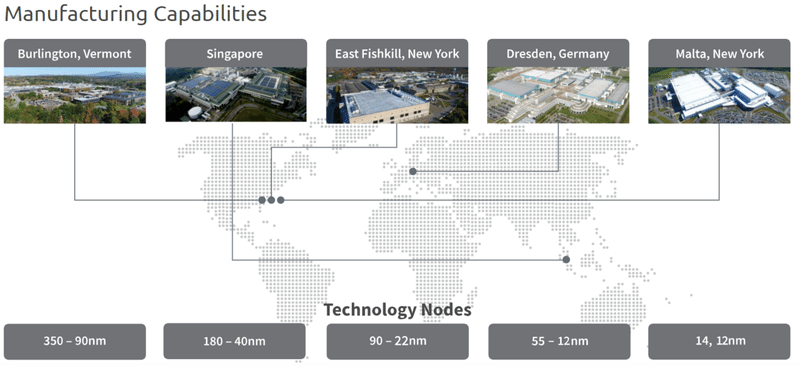 🟩 how much capacity will be increased?
A 23,000-square-meter cleanroom will be built at the new plant and a new 300-millimeter wafer line will be installed. The plan is to be able to process 450,000 wafers per year, and the total capacity as GF will be 1.5 million per year.
GF AIMS TO EXPAND THE CAPACITY OF ALL THREE REGIONAL FABS AND IDEALLY DIVIDE THE CAPACITY EQUALLY BETWEEN SINGAPORE, THE UNITED STATES AND DRESDEN.
🟩 how long will the demand for semiconductors increase?
THE NEW PLANT IS NOT FOCUSED ON STATE-OF-THE-ART PROCESSES, BUT ON LEGACY PROCESSES FOR AUTOMOTIVE, 5G AND SECURITY. AUTOMOBILES ARE A FIELD WHERE THE SHORTAGE OF SEMICONDUCTORS IS CURRENTLY BECOMING SERIOUS, AND THE INCREASE IN DEMAND IS LIKELY TO CONTINUE FOR A WHILE.
またAMDは2022年から2024年にGFから16億ドル相当のウェーハを購入する契約を更新したことが明らかになっている。
https://ir.amd.com/sec-filings/content/0000002488-21-000068/amd-20210513.htm
INCLUDING THE DEAL WITH AMD, GF EXPECTS DEMAND GROWTH TO CONTINUE FOR SOME TIME. THE CONSTRUCTION COST, WHICH IS SAID TO BE 4 BILLION US DOLLARS, WAS ALSO SUBSIDIZED BY THE ECONOMIC DEVELOPMENT AGENCY IN NGAPOL, AND IT WAS DECIDED TO COMMERCIALIZE IT. INCIDENTALLY, THE NEW PLANT WILL CREATE EMPLOYMENT FOR ABOUT 1,000 PEOPLE, INCLUDING ENGINEERS.
🟩 conclusion
GF to Address Semiconductor Shortages by Building
New Plants to Target Areas of Increasing Demand with Legacy Processes
if japan also has plans to return semiconductor production, it will need strong backing like the singapore government.