SEAJ FORECASTS 22.5% INCREASE IN SALES OF JAPANESE SEMICONDUCTOR MANUFACTURING EQUIPMENT BY 2021
🟩 semiconductor equipment in japan grows by 22.5%
sales of semiconductor manufacturing equipment in japan are forecast to increase by 22.5% year-on-year to 2.92 trillion yen in fy2021. as semiconductor investment will continue in fy2021 and beyond, the company forecasts a 5.1% increase to jpy 3.7 trillion in fy2022 and a 4.9% increase to jpy 3.22 trillion in fy2023.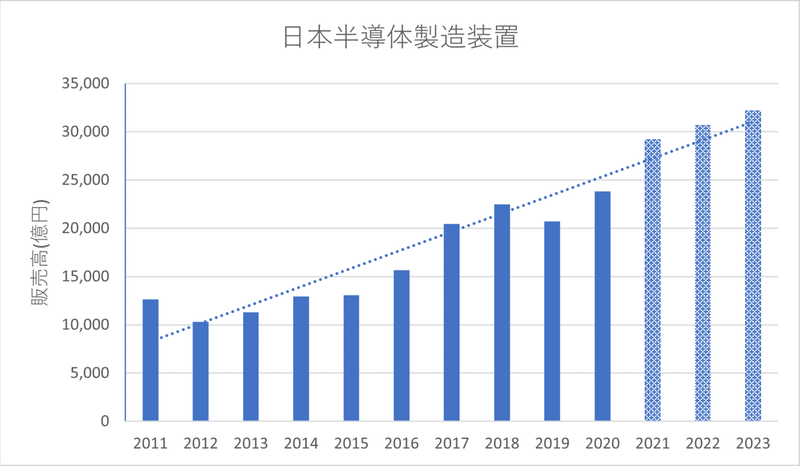 the semiconductor equipment market is expected to continue growing for four consecutive years until fiscal 2023.
🟩 demand for logic and memory semiconductors
Active investment by TSMC and Intel, which will continue from 2019, will continue at a high level in 2021. In addition, a high level of investment in memory is expected to be made in memory in general to meet the DRAM shortage, move to DDR5 standards, and NAND flash demand in the data center. The Company expects that high-level capital investment in semiconductor manufacturing equipment will continue to increase.
🟩 semiconductor market zentai also grows 20%
the global semiconductor market growth rate in 2021 is expected to increase by 19.7%. it is expected to increase by 8.8% in 2022, setting a new record for the second consecutive year. among them, memory is expected to grow by 31.7% in 2021 and 17.4% in 2022. manufacturing equipment also reflects the forecast for the overall semiconductor market.
🟩 conclusion
semiconductor equipment sales in japan to grow by 22.5% in 2021
the increase in demand for semiconductors seems to continue for a while. it would be nice if this would lead to higher productivity in the semiconductor industry as a whole.