From 8 trillion yen in 2020 to → 11 trillion yen in 2022
🟩 Demand for semiconductors will continue for some time
Due to the construction of a supply network for the production of semiconductors in their own countries due to the friction between the United States and China, and the strong demand for cutting-edge technologies against the backdrop of the digitalization of industries around the world, semiconductor manufacturers are actively making capital investments. Against this backdrop, capital investment in semiconductor manufacturing equipment is expected to expand. The semiconductor industry seems to expect that it will take time to solve the semiconductor shortage.
🟩0 billion (11 trillion yen) by 2022
SEMI Forecasts Global Semiconductor Manufacturing Equipment Market Size
$95 billion +34% increase in 2021 $101 billion +6% increase in
2022
Semiconductor manufacturing equipment can be broadly divided into front and back processes. The foundry and logic fields of wafer fab equipment in the previous process account for the majority.

Factors contributing to the increase in wafer fab equipment
○ Foundry and logic field The investment necessary for the development and production of leading-edge semiconductors
used in data centers is increasing. The world's largest foundries, Taiwan Solid-State Cable Manufacturing (TSMC) and Intel, are also planning to invest in large sums of money.
Strong demand for memory and storage
is driving investment in equipment in the NAND and DRAM fields. Increased investment by memory giants Samsung Electronics and SK Hynix.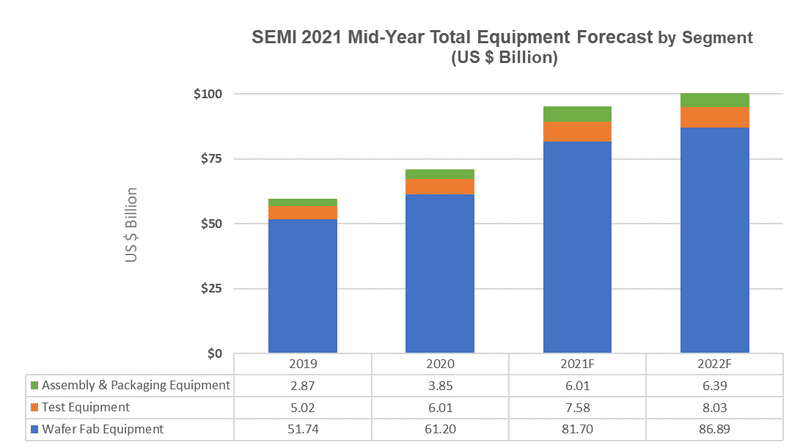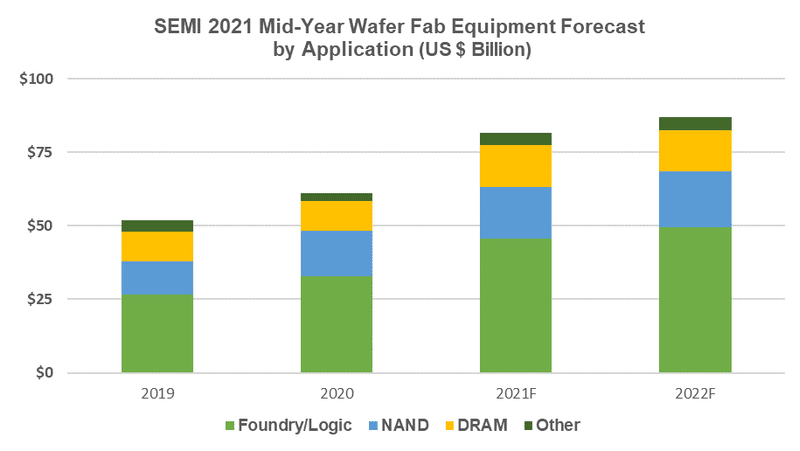 🟩Summary
Demand for semiconductors will continue for a while, and the semiconductor manufacturing equipment market willreach 11 trillion yen in 2022
Among wafer fab manufacturing equipment with a large market, there are also influential Japan manufacturers such as Tokyo Electron and SCREEN. I look forward to growing beyond the market.
https://note.com/embed/notes/nae3f1f6bd670