ST and GF to build semiconductor plants in France
🟦STMicro-GF jointly established semiconductor plant
STMicroelectronics in Europe and Global Foundry, a U.S. semiconductor manufacturing contractor, have signed a memorandum of understanding to establish a jointly operated semiconductor plant. The new plant will be built within ST's existing plant facility in Krol, near Grenoble, France. The company aims for full production in 2026, with plans to produce up to 620,000 300mm wafers per year. In order to meet the automotive, IoT and mobile demand in Europe, we plan to carry out mass production using the FD-SOI process.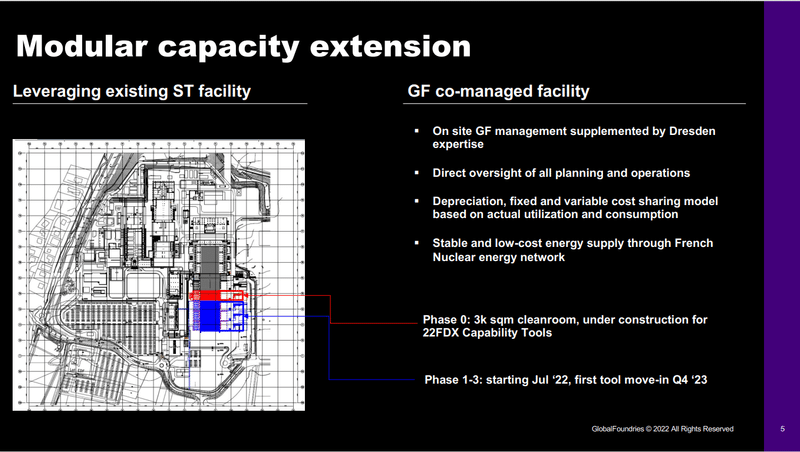 https://www.google.com/maps/embed/v1/place?key=AIzaSyBB4G-zPMgRMNh311Ni4-12a7LA8p7iHi4&q=STMicroelectronics&center=45.2677349,5.8764605&maptype=satellite&zoom=15
European Chip Act
Europe has set a goal of doubling its semiconductor production in the region to 20% of its global share by 2030. For this reason, the public and private sectors have submitted the European Chip Act to invest up to 43 billion euros (about 5.7 trillion yen) by 2030. ST and GF will receive financial support of several billion euros from France under the European Chip Act. GF already has a production site in Dresden, Germany. Therefore, we already have the know-how of chip manufacturing in Europe.
🟦STMicro's foundry strategy
STMicro's strategy is to expand its factory in partnership with foundry. STMicro's plant in Agrate, Italy, is jointly owned by Tower Semiconductor, which Intel has announced to acquire. There is a pattern in the foundry utilization strategy of semiconductor IDMs like STMicro. Fabrite's strategy is not to invest in its own factories like Renesas, but to utilize foundries. A strategy to invest in your own fab like Intel and work with foundry, IDM, and foundry. ST is an intermediate strategy to invest in fabs in collaboration with foundries.
IDM's Foundry Strategy

Fab-Light
IDM and foundry
Working with foundries
🟦Summary
STMicro, which has a strategy to invest in its own plant in collaboration with foundry, will build a new plant in France with Global Foundry. The French government's subsidies under the European Chip Act have been factored in.
STMicro's strategy should also be used as a reference for Japan IDM semiconductor companies.