200mm Semiconductor Fab Production Capacity Forecast +21% Growth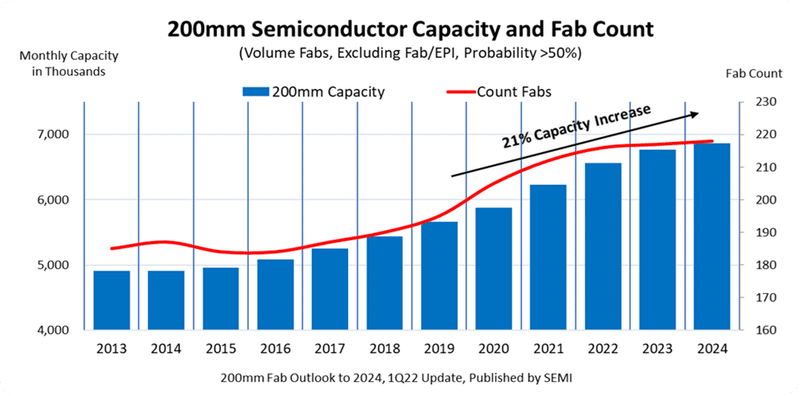 🟦 Legacy Semiconductor 200mm Wafer Factory Grows +21%
SEMI, the international semiconductor trade association, has predicted that the production capacity of 200mm wafers will reach 6.9 million pieces per month worldwide by 2024. Compared to 2020, it will grow by +21%, which is the highest ever.
Investment in manufacturing equipment for 200mm wafer lines is expected to be 4.9 billion dollars (about 610 billion yen) in 2022, continuing the high level of investment following the 5.3 billion dollars (about 660 billion yen) in 2021.
🟦 Strong demand for legacy semiconductors
The main products of silicon wafer substrates are 300mm products with high production efficiency, mainly advanced products. 200mm products are used in legacy semiconductors such as technologically mature consumer and automotive products and low-volume, high-mix production. Demand for legacy semiconductors is strong due to the electrification of automobiles and the spread of IoT, and semiconductor manufacturers in China and other countries are moving to increase production.
Manufacturing applications

Foundry 50%
Analog semiconductors 19%
Discrete 12%

Geographic Share

China 21%
Japan 16%
Taiwan 15%
Europe/Middle East 15%
🟦Summary
Strong demand for legacy semiconductors predicts +21% growth in fab capacity for 200mm wafers
There are plenty of 200mm wafer lines in the Japan. I want them to capture +21% growth firmly.