Smartphone shipments declined by 8.9% in Q1 2022 with lower global demand.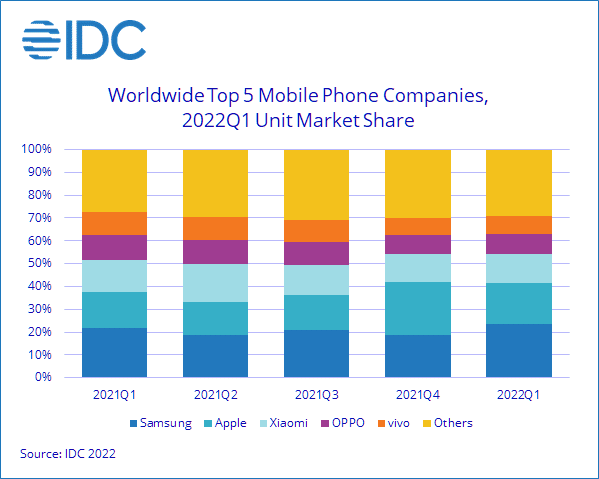 🟦 Global smartphone maker share Q1 2022
IDC announced that global smartphone shipments in January~March 2022 fell 8.9% year-on-year to 314.1 million units. It fell about 3.5% short of February's forecast, marking the third consecutive quarter of decline in the smartphone market.
Share of top manufacturers
There was no change in the ranking of the manufacturer's share for the top rankings. Only Apple, the second-place U.S., saw a 2.2% increase in shipments to 56.5 million units. South Korea's Samsung Electronics fell 1.2% to 73.6 million units.
Share of top manufacturers (year-on-year)

Samsung Korea
Apple U.S.
Zhong Xiaomi
OPPO
Naka Vivo
Samsung Electronics' 23.4% share is the largest share since the first quarter of 2018.
🟦 Decline in demand in the Asia-Pacific region
By region, the Asia-Pacific region, which includes China, which accounts for about half of global shipments, declined by 12.3%. In addition, major manufacturers stopped selling their products in Russia after the invasion of Ukraine, which led to a nearly 20% drop in shipments in Central and Eastern Europe, including both countries. However, the impact is limited because shipments in this region are 6~7% of the global total and about 5% of the total sales.
Decline in demand in the Asia-Pacific region
One of the reasons for the decline in smartphone demand is that consumer sentiment in China is deteriorating and personal consumption is being suppressed due to the progress of inflation in China. The lockdown in Shanghai has also further exacerbated the rise in parts and transportation costs.
🟦Summary
Due to declining demand in China, smartphone shipments fell by 8.9% in Q1 2022.
China has a great influence not only as a production area for smartphones, but also as the largest consumer.