Global semiconductor market revised downward to 10% decline in 2023
🟦Semiconductor market to decline by 10% in 2023
WSTS (World Semiconductor Market Statistics) announced that the semiconductor market in 2023 will $5150 billion (about 71 trillion yen)decrease by 10.3% from the previous year. This represents a wider decline than the 4.1% decline forecast in 2022 November. The market outlook for 2024 expected to be $5759 billion up 11.8%, exceeding the 2022 results.
Semiconductor market size
2022: 5740 billion dollars (about 79 trillion yen)
2023: 5150 billion dollars (about 71 trillion yen)
2024: 5759 billion dollars (about 80 trillion yen)
🟦 Sluggish demand for smartphones and PCs
In 2023, personal consumption will be sluggish due to global inflation. Demand for consumer products such as smartphones and personal computers is sluggish. The largest decline was in memory semiconductors, which account for 2% of the market. Since memory is used in large quantities in smartphones and PCs, the impact of the decrease in demand will be greater.
Memory semiconductor market size
2022 $1298 billion (-16%)
2023 $840 billion (-35%)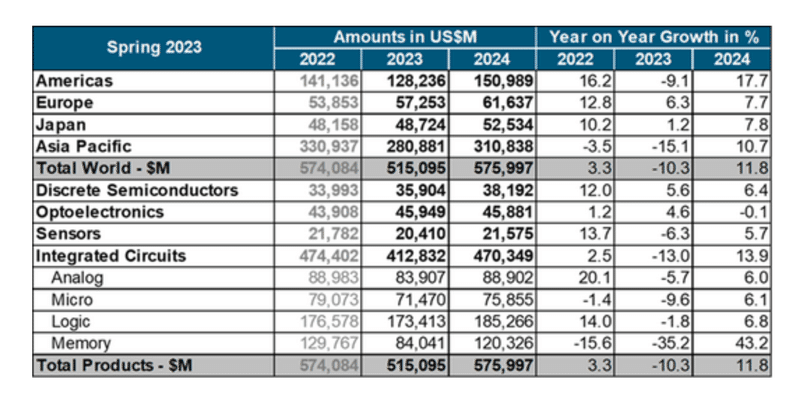 🟦Summary
Sluggish demand for smartphones and PCs results in downward revision to 2023% decline in global semiconductor market in 10
I guess what will recover in 2024 is a figure that includes aspirations.