Semiconductor manufacturing equipment market reaches an all-time high of $1076 billion in 2022
🟦 Semiconductor Manufacturing Equipment Market Size @2022
SEMI, an international organization in the semiconductor industry, announced that the global sales value of semiconductor manufacturing equipment in 2022 was 1076.15 billion dollars (about 3 trillion yen), a record high. The semiconductor manufacturing equipment market has reached a record high for three consecutive years. However, in 2023, it will be a significant contraction of -15% compared to the previous year. After that, the market size is expected to recover in 2024.
Semiconductor manufacturing equipment market size

$1025 billion in <2021>
$1076 billion in <2022>
$912 billion in <2023>
$1072 billion in <2024>
🟦 China, the world's largest market, is negative
Looking at the semiconductor manufacturing equipment market by region, China was the largest market for the third consecutive year. China and third-place South Korea recorded negative growth. Positive growth in other regions resulted in positive growth of 3% overall.
Semiconductor Manufacturing Equipment Market Size Growth Rate 2022

China: -5%
Taiwan: +8%
Korea: -14%
North America: +38%
Japan: +7%
Europe: +93%
Other: +34%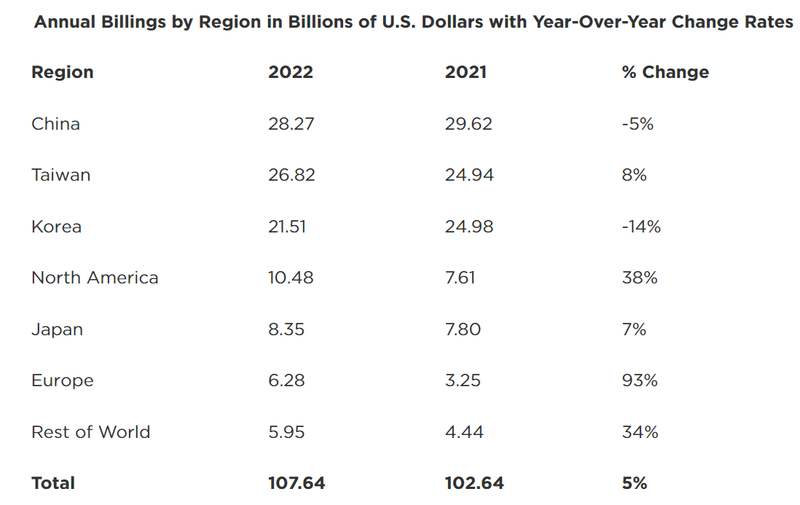 🟦Summary
China, the largest market, experienced negative growth, but the semiconductor manufacturing equipment market hit an all-time high in 2022
The timing of the peak of Japan seems to be off by a year. I would like to look forward to 2023.