Sales of the world's top 10 fabless semiconductor companies up 32% year-on-year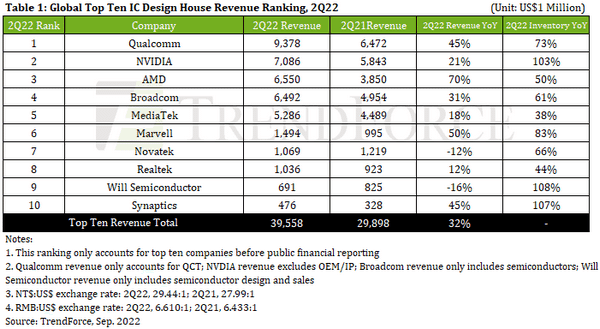 🟦Q2022 2 Fabless Semiconductor Ranking
According to TrendForce, the revenue of the world's top 10 fabless semiconductor companies in the second quarter of 2022 increased by 32% year-on-year to $39.6 billion (about 5 trillion yen). The top 1-4 companies, Qualcomm, Nvidia, AMD, and Broadcom, are all U.S. companies. AMD moved up to third place through mergers and acquisitions.
Fabless manufacturers of chips for data centers, networks, and IoT exhibited high growth rates. Most fabless semiconductor companies maintained revenue growth in Q2 2022. Overall economic uncertainty and the sluggish consumer electronics market are likely to significantly slow the growth rate in the second half of 2022.
🟦 Ranking change from previous year Q2021 2
Compared to Q2021 1, the ranking has changed due to mergers and acquisitions of fabless companies.
3rd AMD ⇔ 4,5th Broadcom, Meditech
AMD has completed the acquisition of Xilinx and Pensando, which will add revenue. As a result, we achieved a high growth of 70% compared to the previous year.
No. 6 Marvel ⇔ No. 7 Novatec
Marvel acquired network semiconductor company Innovium in 2021. This boosted data center revenue, resulting in a 50% year-over-year growth in sales. Display driver Novatek is one of the top 2022 companies with sales decline in Q2 10.
🟦Summary
The world's top 10 fabless semiconductor companies saw sales rise 32% year-over-year. Mergers and acquisitions of the semiconductor industry in 2021 changed the ranking to the middle or lower of the fabless semiconductor rankings
AMD and Marvel will see the effects of their acquisitions in the future.