Toshiba splits into three companies: Infrastructure Services, Devices, and Toshiba
🟩 Toshiba splits into three independent companies
Toshiba will be divided into three companies: Infrastructure Services, Devices, and the surviving company, Toshiba. The Device & Storage Business, including power semiconductors, will be allocated to Device Company. The surviving company "Toshiba" will manage the shares of Kioxia HD, in which it holds a 40% stake, and the Toshiba brand. The names and assets of each independent company are under consideration.
Toshiba was rejected as Chairman of the Board of Directors at the General Meeting of Shareholders in June 2021, but it was decided to split in response to requests from major shareholders.
🟩 Kioxia (formerly Toshiba Memory) to IPO
Toshiba has announced that Kioxia will continue to pursue an initial public offering (IPO). In addition, we are reviewing that the entire amount of the proceeds from the sale of Kioxia shares will be used for Toshiba's shareholder returns. The return on the proceeds from the sale of Kioxia shares was also a request from a major shareholder.
Kioxia's performance recovers
Kioxia's performance for the second quarter of 2022 was strong. Sales increased by 21% year-on-year and operating margin increased to 19%. With good business results and the Kishida administration's semiconductor subsidy policy, corporate value is expected to increase and preparations are being made for an IPO.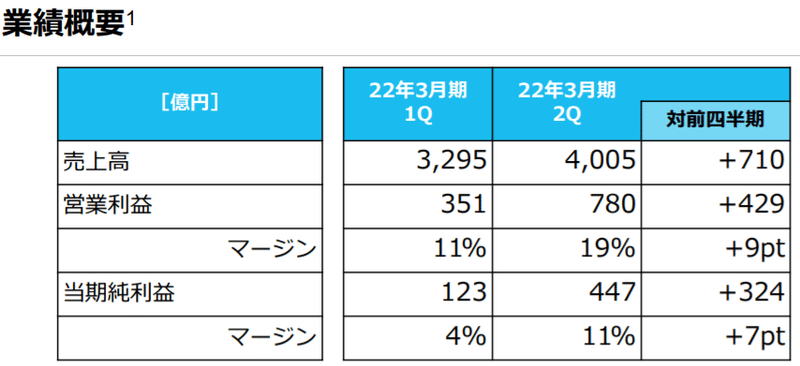 Kioxia was also looking for merger talks with Western Digital instead of an IPO. Negotiations have stalled because the Japan government was reluctant to say that the combined headquarters would be the United States. If it is an IPO, Kioxia will continue to be a Japan company, so the Japan government will not complain.
🟩Summary
Toshiba split accelerates Kioxia to IPO
It seems to be a split of Toshiba that has succumbed to the demands of major overseas shareholders. However Japan let's say that it is good if the corporate value of the company increases.