2021 DRAM memory market share in the top three companies to account for 94%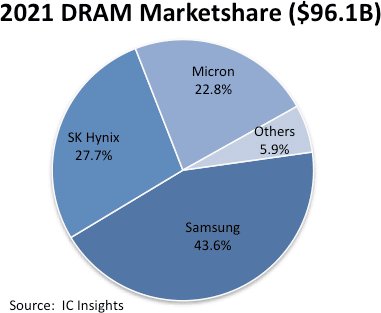 🟦DRAM Memory Market Share @ 2021
According to IC Insights, the DRAM market in 2021 was 94% DRAM market share in the top three companies of Samsung Electronics, SK Hynix and Micron Technology. South Korea-based Samsung and SK alone share a 71.3% share of the global market.
DRAM Memory Market Share (2021 Sales)

Samsung Electronics 43.6% ($41.9 billion)
Korea SK Hynix 27.7% ($26.6 billion)
Micron Technology 22.8% ($21.9 billion)
🟦Introducing EUV into DRAM Processes
DRAM semiconductor processes are becoming more miniaturized, and manufacturing technology is approaching its physical limit. For this reason, EUV (Extreme Ultraviolet Light) lithography technology, which is used in cutting-edge logic, is beginning to be adopted in DRAM manufacturing. Since EUV requires a large investment in introduction, it is very difficult for all but the top three companies to introduce EUV, and the oligopoly of the three companies is likely to continue for a while.
Adoption of EUV in DRAM manufacturing

Korea Samsung Electronics 2020~ 1α nm generation
Korea SK Hynix 2021~1α nm generation
Micron 2024?~ 1γnm generation?
Micron was one of the first to move to the 4th generation 1α nm process. However, the 1α nm generation does not use EUV lithography technology. From 2024, we plan to shift to EUV technology for the production of 1γ(gamma) nm generation DRAM.
What is the 1α(alpha) nm process?
The 1α nm process for DRAM is the fourth generation of 10nm technology used to produce DRAM following the 1x, 1y, and 1z processes. Although each company has not clarified the specific process (wire width), the view that 1α is 15 ~ 14 nm is the most likely view.
10nm generation of DRAM processes

2016~ 1st generation 1x nm (19~18nm)
2017~ 2nd generation 1y nm (17~16nm)
2019~ 3rd generation 1z nm (16~15nm)
2021~ 4th generation 1α nm (15~14nm)
202x~ 5th generation 1β nm (12nm?)
202y?~ 6th generation 1γ nm (11nm?)
🟦Summary
The top three companies will have 94% of the DRAM market share in 2021, with the top three companies adopting EUV lithography technology for DRAM manufacturing
Micron is proceeding with EUV on a wait-and-see basis. Micron's Japan bases play a central role in DRAM, and it would be good if EUV could be introduced to the Hiroshima plant as soon as possible.