Mitsubishi Electric and Coherent of the United States agree on joint development of 8-inch SiC wafers
🟦 Mitsubishi Electric agrees to jointly develop SiC wafers
Mitsubishi Electric Corporation announced that it has signed a joint development agreement with Coherent Corporation for the joint development of 8-inch SiC wafers. Mitsubishi Electric had announced that it would build a new 2026-inch SiC plant in Kikuchi City, Kumamoto Prefecture, with the goal of starting operations in April 4. The joint development aims to ensure stable procurement of wafers for SiC power semiconductors to be produced at the new plant.
Coherent is a semiconductor materials company headquartered in Saxonburg, Pennsylvania, USA. In 2015, we demonstrated an 8-inch conductive SiC wafer ahead of other companies.
In 2010, Mitsubishi Electric commercialized an air conditioner equipped with a SiC power module. The company ranks sixth in the global market share of SiC power semiconductors, following ROHM in fourth place in terms of Japan.
Global share of SiC power semiconductors
STMicro, Switzerland
Infineon (Germany)
Wolfspeed (US)
Loam (Sun)
Onsemi (U.S.)
Mitsubishi Electric (Japan)
🟦 Many years of experience in supplying 6-inch SiC wafers
Coherent has a long track record of supplying 6-inch SiC wafers to Mitsubishi Electric. Therefore, Mitsubishi decided to jointly develop an 8-inch SiC wafer with Coherent. This means that we will quickly develop 8-inch substrates and secure the substrates to be used when the new plant starts operation from fiscal 2026.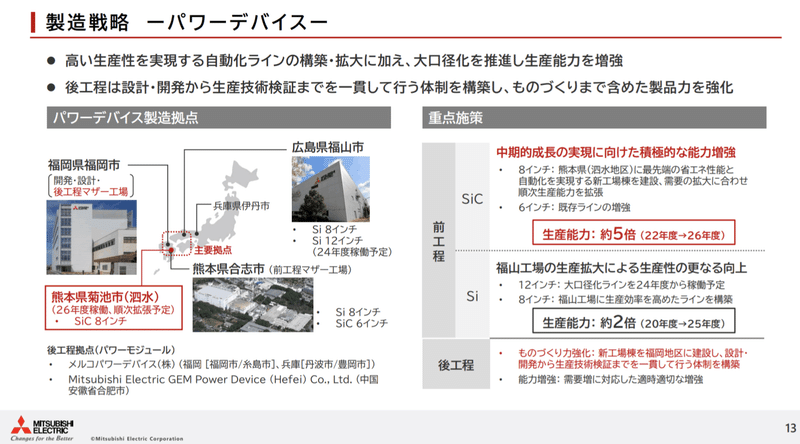 🟦Summary
Mitsubishi Electric agrees to jointly develop 2026-inch SiC wafers with Coherent of the United States for stable wafer procurement for the production of SiC power semiconductors at the new plant in 8
Mitsubishi Electric plans to increase its production capacity of SiC power semiconductors fivefold in four years. Stable procurement of materials is an important issue.