Global Foundries (GF) has announced plans to expand its state-of-the-art manufacturing facility in the United States.
🟩GF's U.S. Manufacturing Facility Expansion
Global Foundries announced plans to expand its state-of-the-art manufacturing facility in upstate New York over the next few years. It includes an additional 8,15 wafer production per year to address the global chip shortage at existing Fab 2 facilities and a $10 billion investment plan for the construction of a new Fab that will eventually double the site's capacity.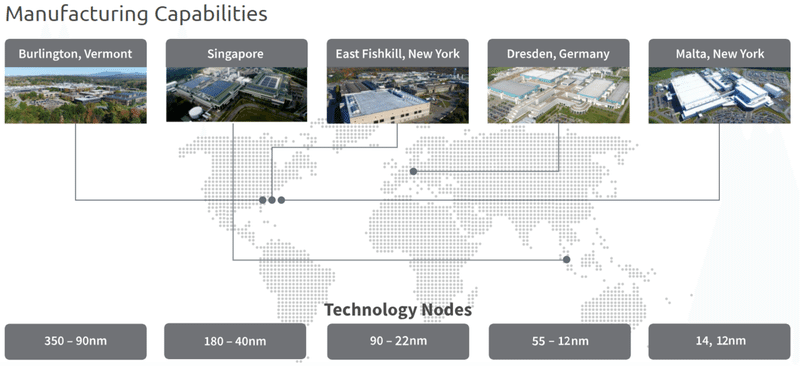 GF has three main factories in Malta, NY, Dresden, Germany and Singapore.
🟩 Government-led Semiconductor Manufacturing Returns to the U.S.
A cost of about $10 billion is planned to fund the new facility through public-private partnerships that include U.S. government and state investments. The event was joined by U.S. Senate Majority Leader Chuck Schumer, U.S. Secretary of Commerce Gina M. Raimondo, former Pentagon officials, and executives from leading companies across the semiconductor supply chain.
This morning, we hosted distinguished leaders of industry & government at our Fab 8 in Malta, NY, where we announced plans to build a new fab on this campus to support U.S. #semiconductor manufacturing. Thank you to all who joined us at Fab 8! https://t.co/X9SF3ulclu pic.twitter.com/kNTFAu7TLH— GlobalFoundries (@GLOBALFOUNDRIES) July 19, 2021
🟩GFに関する最近のニュース
シンガポールでの工場建設
シンガポールの新しいファブとドイツでの10億ドルの計画投資を含む、同社のより広範なグローバル拡大計画を最近発表している。
https://note.com/embed/notes/n2619108d6983
Consider an IPO
GF is part of Mubadala Investment, a sovereign wealth fund in Abu Dhabi, United Arab Emirates (UAE), and is considering an initial public offering (IPO) in the U.S. market in late 2021 and 2022.
Rumors of acquisition talks by Intel
There are rumors that Intel is in talks to acquire GF in order to expand its semiconductor contract manufacturing business.
https://note.com/embed/notes/n4651ed1f4e04
🟩Summary
GF expands of state-of-the-art manufacturing facilities in the U.S.
Since semiconductor manufacturing is related to national security, recent investments in semiconductor factories are strongly related to politics.