IC Insights Releases Semiconductor Supplier Third Quarter Sales Growth Forecast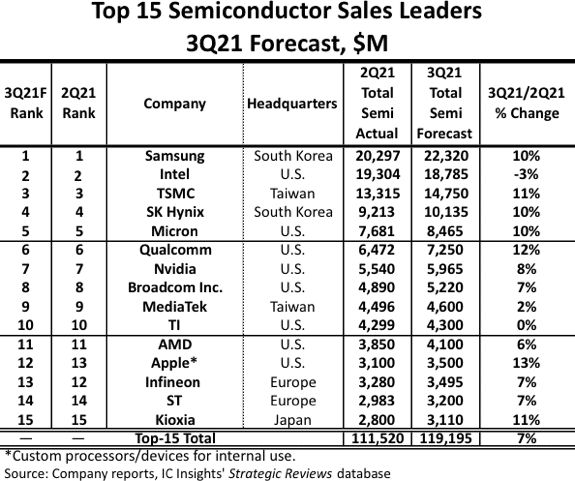 🟩 What is the status of the semiconductor market?

In the Q2021 3 semiconductor sales forecast, the top 15 companies together are projected to grow by 7% QoQ. Semiconductor sales are expected to remain strong through the end of the year, with global growth of 2021% expected in 24.
The third quarter is reflected in the growth rate of smartphone chips and memory companies, driven by demand for 3G smartphones and data centers during the holiday shopping season.
The top 15 companies are 8 U.S. companies, 2 Korean companies, 2 Taiwanese companies, 2 European companies, and 1 Japan company.
🟩 Forecast of change in ranking from last quarter
No. 12 Apple ⇔ No. 13 Infineon
In anticipation of demand for 5G smartphones for the holiday season, Apple will increase its procurement of its own chips by 13%. Similarly, in the 5G smartphone business, Qualcomm expects growth of 12%. Infineon, on the other hand, saw only about the industry as a whole, and the rankings changed.
🟩Only Intel declined
Of the top 15 companies, only Intel saw a decline of -3%. Production of Intel's next-generation XEON Sapphire Rapids has been delayed. As a result, AMD's Zen 7 processor, which uses TSMC 3nm, has lost market share.
🟩Summary
Semiconductor sales growth in Q2021 3 expected to be very favorable, up 7% QoQ
Although it was out of the Top 15 rankings, Sony, ranked 16th, posted a 34% increase. I hope that Japan companies will continue to do their best.