THE MINISTRY OF ECONOMY, TRADE AND INDUSTRY (METI) HAS DECIDED TO SUPPORT TSMC'S NEW BASE IN JAPAN
🟩 contents
DEVELOPMENT OF ADVANCED SEMICONDUCTOR MANUFACTURING TECHNOLOGY REQUIRED FOR POST-5G INFORMATION AND COMMUNICATION SYSTEMS
WE WILL DEVELOP MANUFACTURING TECHNOLOGY (3D MOUNTING TECHNOLOGY) RELATED TO THE LATER PROCESS OF ADVANCED SEMICONDUCTOR MANUFACTURING PROCESS. SPECIFICALLY, WE WILL DEVELOP COMMON FUNDAMENTAL TECHNOLOGIES SUCH AS 3D MOUNTING TECHNOLOGIES FOR HIGH-PERFORMANCE COMPUTING (HPC) AND EDGE COMPUTING, WHICH ARE REQUIRED FOR ADVANCED SEMICONDUCTORS, AS WELL AS PACKAGE SUBSTRATES AND BONDING MATERIALS THAT SUPPORT THESE MOUNTING TECHNOLOGIES, AND ESTABLISH POST-PROCESSING TECHNOLOGIES FOR LOGIC SEMICONDUCTORS WITH ADVANCED CAPABILITIES NOT FOUND IN JAPAN.
🟩 selected themes
3D PACKAGING TECHNOLOGY CENTERED ON ON-BOARD MOUNTING TECHNOLOGY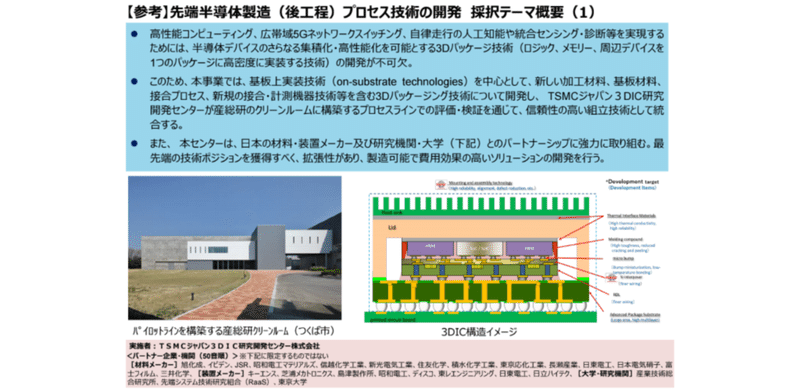 the scale of the business has become less than 25 billion yen in 5 years.
🟩TSMC DESIGN CENTER
TSMC will establish an R&D base in Tsukuba City, Ibaraki Prefecture
TSMC JAPAN 3DIC R&D CENTER CO., LTD.
it seems that they are currently recruitingTSMC Design Center in Japan – Taiwan Semiconductor Manufacturing Company LimitedConsider TSMC Design Technology Japan for an exciting and chawww.tsmc.com
🟩 government-led attraction
the business plan of the ministry of economy, trade and industry (meti) that was targeted this time was added on february 4, 2019
TSMC ANNOUNCES DEVELOPMENT LAUNCH ON FEBRUARY 9, 2019
i guess it was already planned, including the adoption of this project.
🟩 conclusion
three-dimensional mounting is a field where the strengths of japanese companies can be utilized in materials and manufacturing equipment.
TSMC WANTS TO INCORPORATE NOT ONLY WAFERS BUT ALSO PACKAGES AND TECHNOLOGY.
i think the plan is in line with the speculation.
in addition, there are no competing semiconductor package manufacturers in japan, so it is better
INVEST IN TSMC FOR A MOMENT, BUT THINK OF IT AS AN INVESTMENT IN LONG-TERM JAPANESE SEMICONDUCTOR TECHNOLOGY