Top 10 Fabless Semiconductor Companies Generate Revenue to Reach US$29.8 Billion in Q21
🟩 Fabless market grew by 60% year-on-year
According to a report by TrendForce, the revenue of the top 10 fabless semiconductor companies in the second quarter of 2021 reached US$29.8 billion, up 60.8% year-on-year. Growth is being boosted by a shortage of semiconductor production capacity and the resulting increase in chip prices.
Semiconductor demand is expected to slow down in the third quarter of 2021, resulting in lower revenues. However, some fabless companies are currently accumulating chip orders, so there is a possibility of further growth in the second half of the year.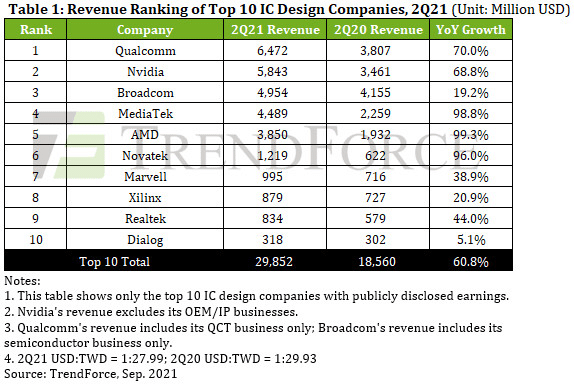 🟩 Manufacturers of big growth about twice as much
MediaTek, AMD and Novatek, ranked 4~6th in the rankings, recorded significant growth of more than 95%.
AMD has good servers
AMD saw the largest increase of 99.3% year-over-year. AMD is affected by the increase in client adoption of server CPUs.
MediaTek smartphones are doing well
This was due to the fact that MediaTek's smartphone business was booming with 143% growth. Businesses other than smartphones also performed well overall with double-digit growth.
Novatek has a good relationship with foundries
Novatek performed well in display driver ICs. This is due to close partnerships with foundries such as TSMC, UMC and VIS to ensure manufacturing capacity.
🟩 Ranking change from the previous period
No. 7 Marvell ⇔ No. 8,9 Xiinx, Realtek
With the completion of the acquisition of Inphi, Marvell experienced significant revenue growth. Therefore, it moved up to 7th place, overtaking Xiinx and Realtek. Marvell is also expected to increase revenue by more than 50% year-on-year in the second half of 2021.
2021 1Q Rankings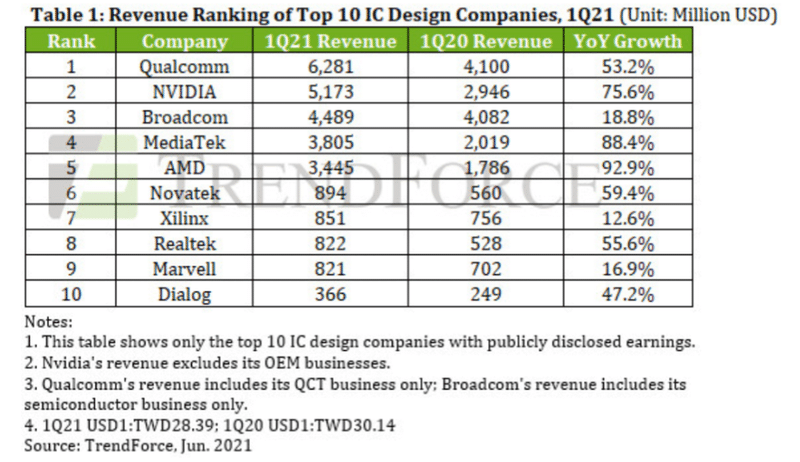 🟩Summary
Fabless semiconductor market is booming, and the impact of semiconductor shortages is expected
to continue in the second half of the year
Taiwan Fabless has a good relationship with the same Taiwanese foundry, which has enabled it to secure the supply of foundries. There are also such merits to completing the ecosystem in the same country.