NAND flash market continues to oversupply, prices may recover towards the end of the quarter
🟦NAND Flash Market @ Q2023 3
According to Trendforce, we expect the price of NAND Flash to continue to decline by 2023~3% in Q3 8. Price increases are expected only for NAND flash wafers. However, while the market remains oversupplied, prices may recover towards the end of the quarter.
🟦NAND Flash Market Continues to Oversupply
Despite the industry's efforts to scale back production, the NAND flash market is expected to remain oversupplied. This is because market demand is opaque and careful inventory management by buyers hinders price stabilization. The supply and demand of various products (client SSDs, enterprise SSDs, eMMC, UFS) also influences the overall picture of the market.
Client SSD:
Notebook PC shipments will recover, but it will be difficult to reverse the oversupply.
Enterprise SSD:
Negotiated profits are shrinking, although shipments may be accelerated.
eMMC:
Prices of small-capacity products are expected to stabilize, while prices of large-capacity products may decline
UFS:
Smartphone OEMs are increasing their parts inventories to healthy levels, which may increase UFS procurement activity
NAND Flash Wafers:
Inventory pressure is expected to ease and pricing is expected to become more aggressive. Price increased by 0~5%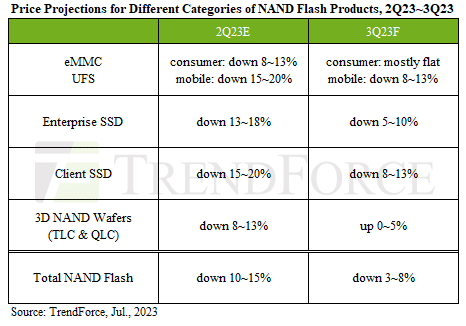 🟦Summary
The NAND flash market continues to oversupply, and the possibility that prices will recover towards the end of the quarter. First of all, we expect the price to increase from NAND flash wafers.
In the third quarter of 2023, the NAND flash market appears to remain oversupplied, but there are signs of recovery.