Taiwanese DRAM company Nanya breaks ground for EUV advanced DRAM plant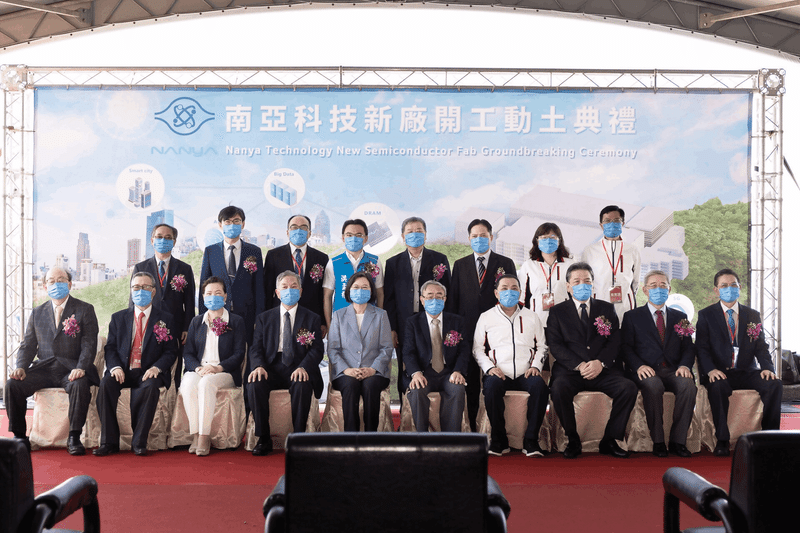 🟦 Taiwanese DRAM company Nanya starts construction of new plant with EUV
 Taiwanese DRAM company Nanya held a groundbreaking ceremony for its new factory in Taiwan. We will invest NT$3000 billion (approximately JPY 1.4 trillion) to build a 12-inch DRAM plant that uses EUV advanced manufacturing processes. Construction is expected to be completed by 2025. Taiwanese President Tsai Ing-wen attended the groundbreaking ceremony and delivered a congratulatory address.
DRAM 10nm Generation Process
While major DRAM manufacturers introduced the 10nm generation process, Nanya used a mature process of 30~40nm for its products. However, in the new plant, Nanya will introduce its own 10nm generation process technology. Mass production of the first generation (2022Anm) is scheduled for 1. Currently, trial production of the second generation (1Bnm) has begun, and the third generation (2Cnm) and fourth generation (1Dnm) are under technological development. EUV is scheduled to be introduced from the 3th generation.
2016~ 1st generation 1x nm (19~18nm)
→ [Nanya]2022~ 1Anm generation
2017~ 2nd generation 1Y nm (17~16nm)
2019~ 3rd generation 1z nm (16~15nm)
2021~ 4th generation 1α nm (15~14nm)
→ [Nanya] 2025~ 1Dnm generation EUV introduction
202x~ 5th generation 1β nm (12nm?)
202Y?~ 6th generation 1γ nm (11nm?)
🟦 Why Implement Advanced EUV Process?
The DRAM market is dominated by the top three companies, Samsung Electronics, SK Hynix, and Micron Technology, accounting for 3% of the market. Although Nanya ranks fourth in the industry, it has a small market share of about 95%. So until now, Nanya has been producing mature niche DRAM at a low cost. As DRAM is gradually shifting to the new DDR4/LPDDR3, advanced EUV processes need to be introduced to improve process performance.
Catching up with Chinese DRAM companies
With the market dominated by U.S. and South Korean companies, China is also aiming to manufacture DRAM in its own country. CXMT, a state-owned company, has been mass-producing DRAM using the 2019nm process since 19 by introducing Qimonda's technology of Germany. CXMT is currently developing the second generation of 2nm DDR10/LPDDR5. Nanya is being overtaken by Chinese manufacturers, so it seems that it has been forced to introduce EUV advanced processes. The Taiwanese government is also paying attention due to the sense of crisis of Chinese manufacturers.
🟦Summary
As Chinese companies are catching up with DDR5 compliance, Taiwanese DRAM company Nanya starts construction of an advanced DRAM plant that uses EUV.
When EUV is introduced at Micron's Hiroshima Plant, will Prime Minister Kishida also participate in the groundbreaking ceremony?