Taiwan will account for 66% share of global foundry production by 2022
🟦Semiconductor foundry share in 2022
According to Trend Force, the global share of semiconductor foundries in Taiwan is expected to increase to 66% in 2022. That's up from 64 percent in 2021. We forecast that the share of Korean companies such as Samsung Electronics will decrease by 1 point from the previous year to 17%, and that of Chinese companies such as SMIC will increase by 1 point to 8%.
We forecast that the global semiconductor contract market will expand to 128.7 billion dollars (about 16.5 trillion yen) in 2022, up 20% from 2021. The overall semiconductor market is expected to be $600 billion by 2022, with about 20% coming from semiconductor foundries.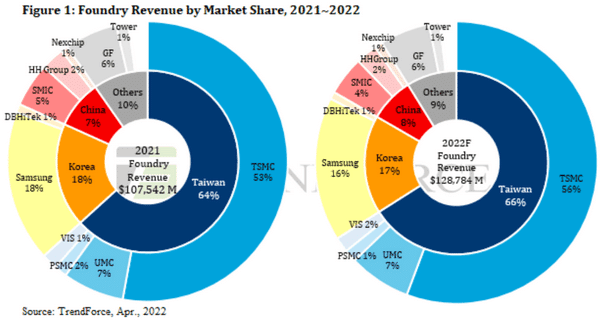 🟦 Taiwan leads the way in advanced semiconductors
Taiwanese OEMs will increase their market share mainly with TSMC, which is strong in the production of advanced semiconductors. TSMC is expected to increase 3% year-on-year to 56% of the market share, while UMC is expected to secure a 7% market share, which is on par with the previous year. There are currently six new plant plans planned for 2022 in Taiwan, surpassing the four plants in China and the three in the United States.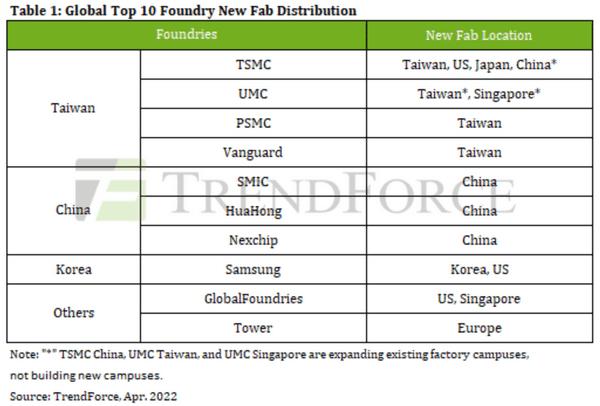 🟦まとめ
With increased production of advanced semiconductors, Taiwan will account for 66% share of global foundry production in 2022
In Japan that are not good at horizontal division of labor, there are no companies that are counted as full-time foundries.