The semiconductor foundry market has shown temporary earnings stability, but the future is becoming increasingly uncertain.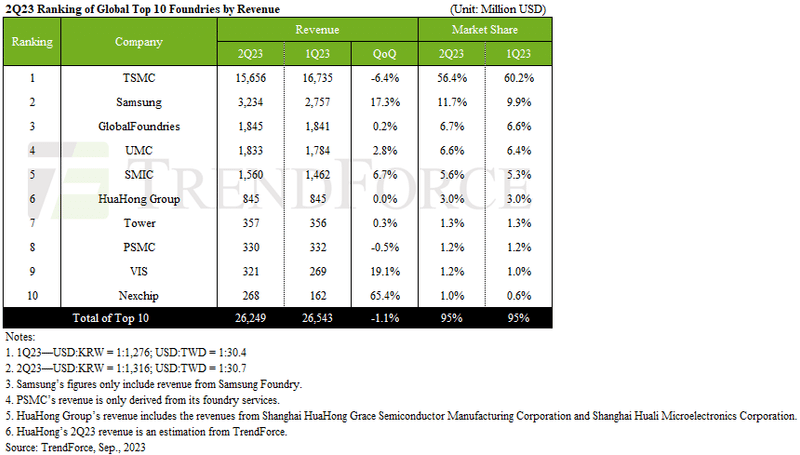 Press Center - Top Ten Semiconductor Foundries Report a 1.1% Quarterly Revenue Decline in 2Q23, Anticipated to Rebound in 3Q23, Says TrendForce | TrendForce - Market research, price trend of DRAM, NAND Flash, LEDs, TFT-LCD and green energy, PV
TrendForce reports an interesting shift in the electronics landscape: dwindling inventories for TV components, along with a surging mobile repair market that's ...
🟦 Semiconductor foundry market @2023Q2
According to TrendForce, the market for semiconductor foundries declined 1.1% to $262.2 billion in 2023Q 3. Demand for consumer products remained low, resulting in negative growth. Short-term emergency orders are supporting some companies' earnings, but market conditions beyond are uncertain.
🟦Demand for TDDI surged
While demand for cutting-edge chips has not recovered, urgent orders for touch and display drivers (TDDI) for mobile repairs have surged. The surge in revenue from urgent orders has particularly benefited niches such as VIS and Nexchip. Each company responds to market fluctuations in its own way.
TSMC contained the decline
Samsung growth 17.3%
GlobalFoundries up 0.2%
UMC, SMIC constant growth
🟦Summary
The semiconductor foundry market has shown temporary earnings stabilization due to a surge in urgent orders for TDDI, but there is growing uncertainty about what lies ahead.
The second quarter was almost flat. According to Trendforce, the second quarter is expected to be the bottom.