Apple announces monster SoC "M1 Ultra"

https://youtube.com/watch?v=CUwg_JoNHpo%3Frel%3D0
🟦 Apple announces M1 Ultra
At its event, Apple unveiled the M1 Ultra processor for Mac Studio. It will be the fourth product of Apple's original chip "M1" installed in the MacBook Air, Mac mini, and iPad Pro from 2020. The M1 Ultra will be installed in the high-end Mac Studio desktop computer for professional video and music production. Mac Studio is positioned between the iMac and Mac Pro, and is equipped with the "M1 Ultra" to achieve high processing power while reducing power consumption.
🟦「M1Ultra」= 「M1 Max」x2
The M1 Ultra achieves high processing performance by combining two of the top-of-the-line M1 Max. The process uses TSMC's 5nm process, which is the same as the previous M1 series. With 114 billion transistors, the CPU capacity is 90% higher than that of other companies.

Ultra Fusion
By directly connecting two dies, the M1Ultra achieves twice the CPU cores, twice the GPU cores, and twice the memory bandwidth on a single chip. Apple has named the technology that connects more than 10,000 dies to dies using interposers "UltraFusion". The existing M1 Max had a chip size of 432mm2, which was close to the manufacturing limits of TSMC's 5nm process.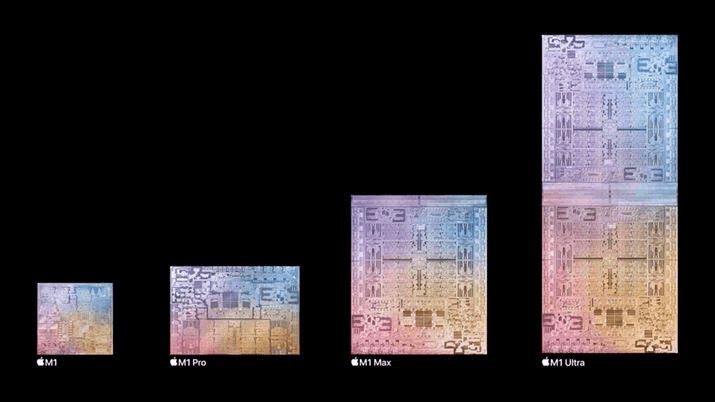 🟦Summary
Apple develops monster SoC "M1 Ultra" by connecting two giant chips "M1 Pro"
In 2020, Apple announced that it would develop the "M1" series in-house. In less than two years, the M1 series has developed significantly.